Playing Card Faces Detailed: Regular Index & Super Index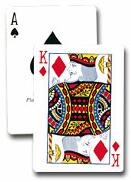 These are Regular Index Playing Cards.
Also known as Standard Playing Cards.
---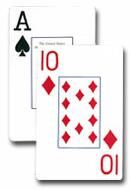 These are Super Index Playing Cards.
They Have Large Printed Numbers and Suits


Some people may prefer Super Index - as these are easier to view.
Some people may prefer Regular Index - as these are most commonly used.
Your Best Bet is....The Card Face That You Like The Best!
---
Playing Card Sizes Detailed: Bridge Size and Wide Size
If you click the picture to the left - you will see this picture jumbo sized.
This will show you the comparison of Bridge Size and Standard Size.
Standard size cards are 2 1/2 inches across, while Bridge Size are 2 1/4 inches across.
Las Vegas Poker Rooms Use Bridge Size Cards.
It has been a Poker Room Tradition for many years - and this tradition is one that will not change anytime soon :)
---


We Accept Mastercard, Visa, Paypal, Personal Checks, & Money Orders.
Everything you purchase from us is backed by our 30 Day no questions asked return policy.
Your 100 % Satisfaction is Guaranteed.
Old Vegas Chips - Table of Contents - Privacy Policy - Casino Chip Museum